**Click the images to open the link
Learning Management System (LMS) is where teachers have their weekly plans and due dates. Teachers can also upload their worksheets used in class here. To learn more about the LMS and how it works, watch this helpful tutorial:
The course of study handbook link below showcases the courses offered at Calvary Christian School. It also explains graduation requirements, as well as options for running start and tri tech at the high school level.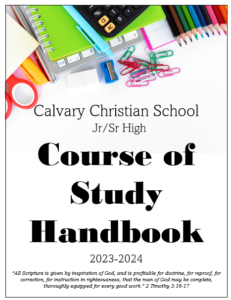 The bell schedule link below shows the Daily, Friday Chapel, Early Release and 2 Hour Delay schedules at both the middle and high school levels.